Basquiat Café #2
14 March 2019 @ 20:00

-

22:00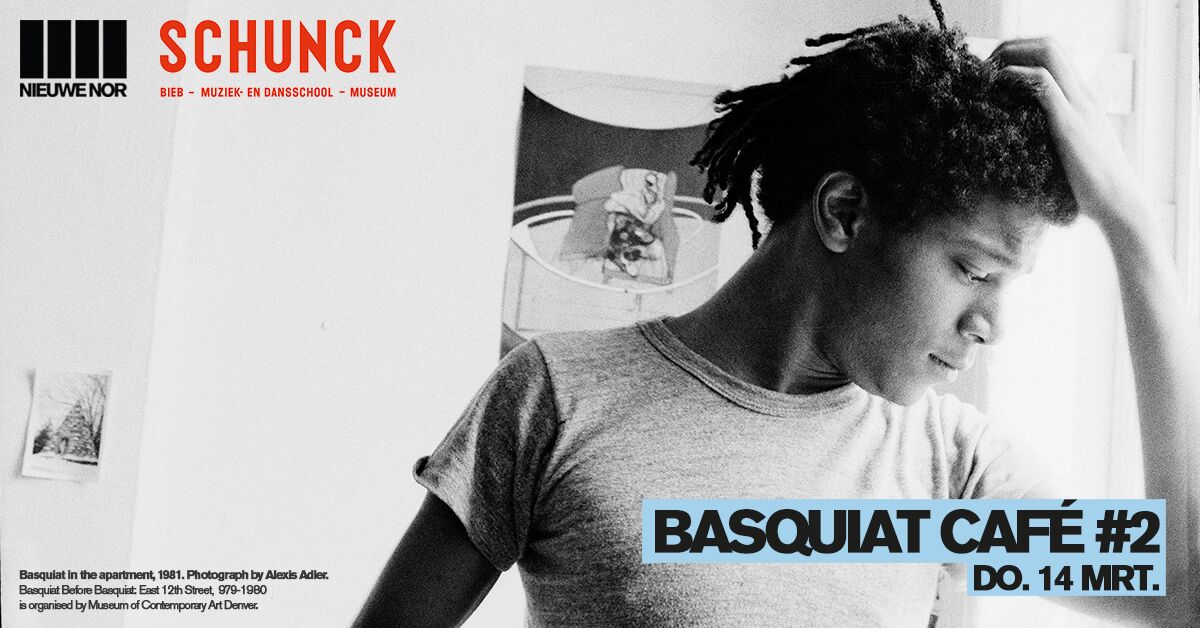 In collaboration with SCHUNCK, pop podium NIEUWE NOR organizes the Basquiat Café every second Thursday of the month during the exhibition 'Basquiat – The artist and his New York scene'. This series of four free-to-be-accessed café evenings will take a closer look at various aspects of the life and work of this iconic artist through an exhibition, lectures, music and poetry slam. During the second edition on Thursday, March 14, the theme Basquiat x Murals is central. What influence did Basquiat have on the lively graffiti, hip-hop and breakdance scene of New York in the early 80s? And what does the street art of Basquiat have in common with the Heerlen murals?
Lecture: Raenys Martis
Raenys Martis, initiator of Heerlen Murals, reflects on the creative environment that Basquiat and Heerlenhave in common. After the closure of the mines, the city f Heerlen was flooded with many metropolitan problems in the eighties and nineties. At the same time, this background was a breeding ground for a lively street culture (hip hop and alternative punk scene), which came from America (New York).
Music: TBA
Poetry slam: Arnoud Rigter
Poetry slam-collective Borderlines will present Eindhoven's Arnoud Rigter this evening. This poet (and architect) writes lines such as "Mama's ovulation is my private big bang" and "The answer to all your existential questions is: no". He was the city poet of Eindhoven, did some 500 performances, was a guest at Klein.Berlijn during Cultura Nova, and published, among other things, 'Land van suiker en benzine' and 'Het duimzuigend fossiel': poetry collections in which text and images are combined.
Expo
In the underpass and the café of pop-stage NEW NOR, an exhibition takes place with photos of Alexis Adler from the exhibition 'Basquiat – the artist and his New York scene'.
Basquiat Café takes place in the café of pop-stage NEW NOR and is organized i.s.m. SCHUNCK, as part of the exhibition 'Basquiat – the artist and his New York scene'. Powered by Gulpener Beer Brewery. Entrance is free.