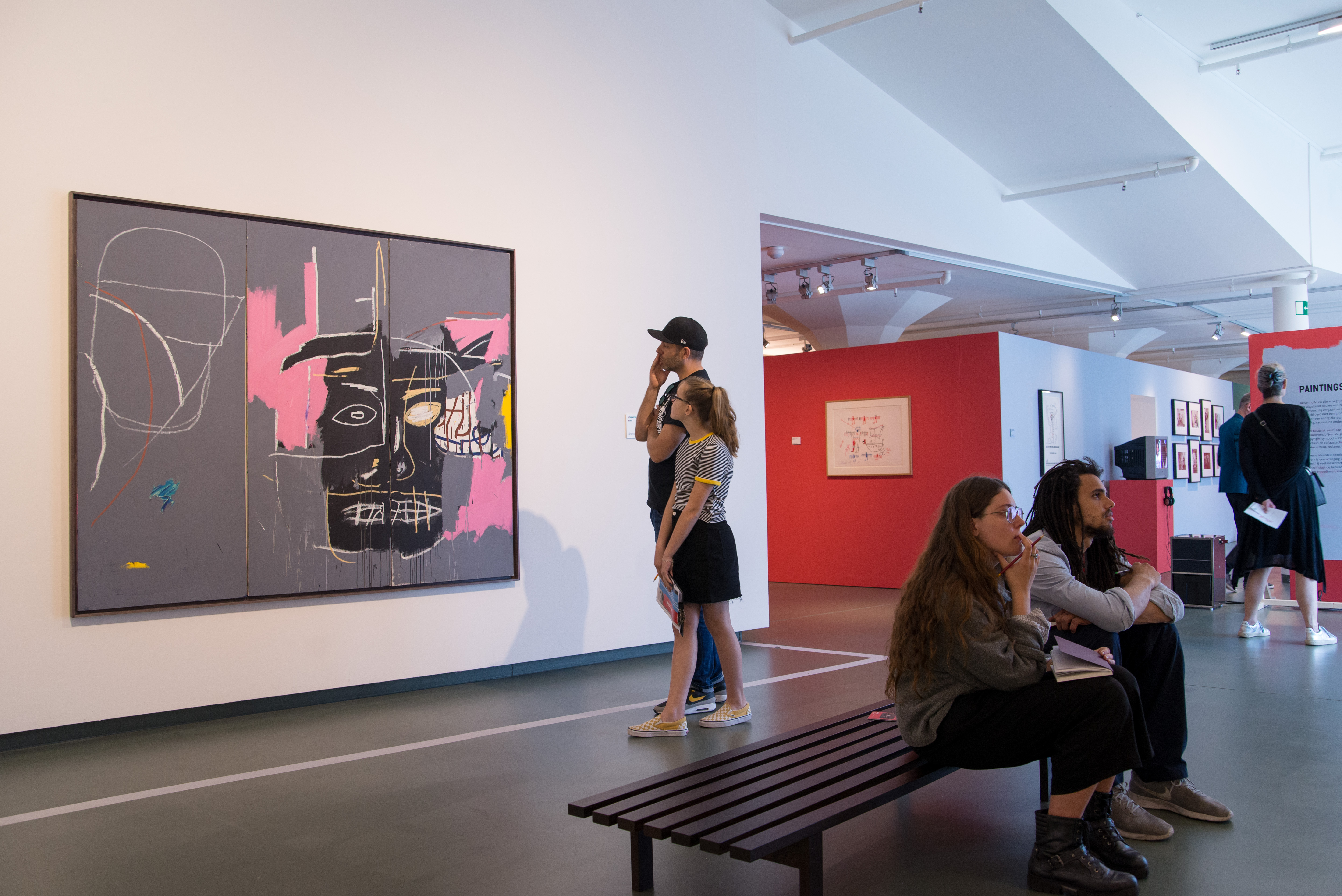 More than 25,000 visitors for Basquiat in Heerlen
Heerlen 04-06-2019

The Basquiat exhibition produced the highest number of visitors since the existence of SCHUNCK as a cultural institution. More than half of the visitors to the exhibition came from outside the region. Large numbers of young museum visitors, school groups and visitors from the Euregio found their way to the museum in Heerlen.
Kor Bonnema, director of the SCHUNCK foundation proclaims proudly: "The team has set up a huge project. They presented an exhibition of which the (inter)national press wondered how our museum managed to do so. We once again brought Heerlen to an international stage."
The large number of requests for school visits was striking – the largest number since the foundation of SCHUNCK. SCHUNCK processed applications for more than 120 school visits. That brought almost 2500 students to the museum. The public program was good for around one fifth of the visitors, mostly from the region. Special collaborations such as that with 100% Heerlen, could count on much media attention. The biggest crowd generators were the Buurtbattles, a collaboration with Job Vermeesch of HFC dance studio, the final exam exhibition of the Bernardinus College, the presentation at Tefaf and the Basquiat Cafés in the New Nor pop venue.
The attention for the project was historically high; no SCHUNCK initiative has been so widely presented in the press in the past – regionally, nationally and internationally. In the art and culture world, people also praised the Basquiat exhibition in Heerlen. More than 140 publications and broadcasts appeared in 12 different countries on 4 continents. The project thus underlines the importance of presenting large and sensational exhibition projects periodically. Partly thanks to the substantive connection between Basquiat and the city of Heerlen, the project brought pride and put Heerlen on the map. Jordy Clemens, Alderman for Culture: "This story about a world-class artist attracted thousands of people to our city and inspired young Heerlen artists. SCHUNCK impressively brought to life the New York years of Jean-Michel Basquiat in the heart of our city. "
Basquiat – the artist and his New York scene 2 Feb – 2 June 2019
Using over 300 works of art, the exhibition told the story of the creation of a young, unknown Basquiat to a world-renowned artist in the bustling New York art scene of the early 1980s. The presentation included the Basquiat Before Basquiat exhibition: East 12th Street 1979-1980, compiled by the Museum of Contemporary Art Denver.
About SCHUNCK
The SCHUNCK Glaspaleis on the Bongerd in Heerlen is a cultural institution with a museum for modern and contemporary art, an architecture institute, a library and a music and dance school. SCHUNCK has several branches in the neighborhoods of Heerlen. The Glass Palace is on the list of 1,000 most important buildings of the 20th century of the International Union of Architects and is mentioned in the same breath as the most important monuments of New Building, such as the Rietveld Schröder House and the Van Nelle Factory.
SCHUNCK – Bongerd 18, 6411 JM Heerlen
+31 (0) 45 577 22 00
www.schunck.nl
_________________ Note for editors_________________________
For more information and requesting interviews:
Prisca Niël, senior marketing communication consultant SCHUNCK,
+31 (0) 45 577 22 03 / prisca.niel@schunck.nl

For visual material:
https://we.tl/t-OdkKJKPmam Downloadable until 10 June 2019
More HR photo material: Basquiat.schunck.nl/press